Kenansville Giant Bass Fishing
Central Florida has been the BEST bass fishing destination this season. There were several locations across the region that produced exceptional fishing trips. Even with all these great fishing lakes here in Central Florida, one in particular took the stand for being a trophy bass fishery this season. Kenansville Lake is a hidden destination many don't know about. It will continue to produce if conditions stay strong and the water levels during our rainy season stay low. Enjoy a Kenansville Giant Bass Fishing Trip next time visiting the state of Florida.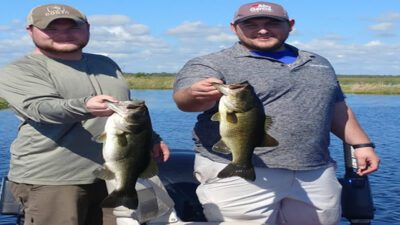 Captain Steve Niemoeller has been highly productive on this fishery this season. Jordan and Matt adventure out with Captain Steve for one that they will remember for a lifetime. This was Captain Steve's second time fishing with Jordan. Matt and Jordan were traveling from Indiana to see what Central Florida Bass Fishing had to offer them.
One of the goals they wanted to accomplish was catching a large number of bass and they were in-store for two excellent days on the water. Jordan and Matt traveled to Florida when the bass were biting. Wild caught live shiners were the most effective technique to put bass in the boat. They ran out of 12 dozen shiners fairly quickly on this fishing trip. It was an excellent first day of fishing on Lake Kenansville.
The second day was just as good. You can't beat the slug fest that some days can be. Jordan and Matt caught 130 bass in two days on the water. They also caught several quality largemouth bass. One of the best parts about being a fishing captain is watching the joy and excitement your clients get when catching largemouth bass or any fish. Captain Steve is looking forward to fishing with Jordan and Matt again in the future.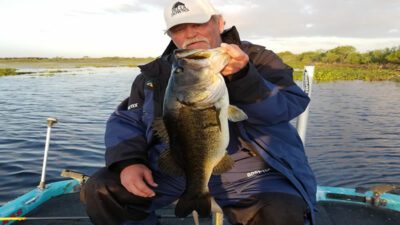 Captain John Leech adventured out with Rick and Barry for another awesome day on the water this season on Lake Kenansville. These two guys according to Captain John were fantastic to fish with. They would make you laugh and loved to have fun while reeling in the big ones in.
Kenansville showed its power on this incredible fishing trip. If you are looking for trophy largemouth bass, this is the place to visit.
Rick and Barry landed over 54 largemouth bass. Many of the bass were between 5-6 pounds. Barry landed a bass you dream about weighing 8.4 pounds. It was a true Florida Trophy Largemouth Bass.
Captain John is looking forward to fishing with these awesome gentlemen again in the future. Don't miss out on your adventure here in Central Florida. The Lakes will continue to produce excellent action. If you are looking for trophy bass, come Visit Florida and we will get you hooked up on an adventure of a lifetime!
[fusion_button link="https://bassonline.com/trips/city/st-cloud/kenansville-lake/" title="BOOK YOUR KENANSVILLE LAKE FISHING TRIP ONLINE NOW!" target="_self" alignment="center" modal="" hide_on_mobile="small-visibility,medium-visibility,large-visibility" class="" id="" color="default" button_gradient_top_color="" button_gradient_bottom_color="" button_gradient_top_color_hover="" button_gradient_bottom_color_hover="" accent_color="" accent_hover_color="" type="" bevel_color="" border_width="" size="" stretch="default" shape="pill" icon="" icon_position="left" icon_divider="no" animation_type="" animation_direction="left" animation_speed="0.3″ animation_offset=""]BOOK YOUR KENANSVILLE LAKE FISHING TRIP ONLINE NOW![/fusion_button]
If you enjoyed this post about Kenansville Giant Bass Fishing, you might also enjoy this fishing report from the same area.
Don't forget to follow us on Facebook, YouTube, Twitter and Instagram.